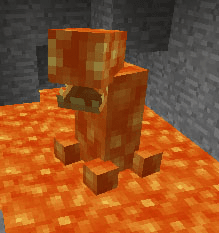 Lava Monsters
Released: Jun 28th, 2013
---
Authors
---
License
All Rights Reserved with major exceptions
---
Information
---
Minecraft 1.17.1
lava-monsters-1.17.1-1.0.10.jar

release

| 133.43 KB - Jul 31st, 2021
Minecraft 1.16.5
lava-monsters-1.16.5-1.0.9.jar

release

| 130.11 KB - Nov 2nd, 2020
Minecraft 1.15.2
lava-monsters-1.15.2-1.0.5.jar

release

| 129.76 KB - Jun 26th, 2020
Minecraft 1.14.4
lava-monsters-1.14.4-1.0.4.jar

release

| 129.51 KB - May 14th, 2020
---
Tags
Mobs
---

📚 Description
If you've ever found yourself bored once you mine down to lava because it stops hostile mobs from spawning, then this is the mod for you! This is a small mod that adds a new hostile monster to the game that spawns in lava and spits fireballs at you. Lava monsters' spawning conditions can be adjusted in a handy-dandy properties file!
📦 Modpack Permissions
Yeah, go ahead unless told otherwise. Just make sure to give proper credit and you're good.