💗 Like What We Do? Support Us!
Table of Contents
What do we do?
We are a small group of friends that does Minecraft modding as a hobby since 2016. We have revived old and abandoned mods to the latest versions of Minecraft most notable ones being The Aether by kingbdogz, Premium Wood, Nethercraft by scokeev9, Good Night's Sleep by bob0productions/tippyfoo, The Farlanders by Fabiulu.
Other than mod ports, we create original mods for everyone to enjoy. We're currently working on a huge dimension mod known as Blue Skies which adds two dimensions called the Everdawn and the Everbright along with lots of gameplay elements such as tons of new blocks, items, weapons, and dungeons to conquer!
Check out our mods page to see all the stuff we've been working on!
Who are we?
Lachney — Music Composer, Sound Designer, Server Administrator
Bailey — Programmer, Modeler
Silver_David — Programmer, Texture Artist
Jonathing — Programmer, Music Composer, License Maintainer
Susie — Pixel Artist, Community Manager
Joshua — Modeler, Artist
Critical — Server Manager
JoltLiz — Server Moderator
1cemelon — Server Moderator
PolizeiRocket — Server Moderator
Ultimagic5 — Server Moderator
Vamacher0n — Spanish Translator
Jesterguy — A guy.
What You Get For Supporting
---
The Conjurer Credits in Admission Book
In the theater, if you look in the admission office, you'll find a lectern with a list of 8 random names from the list of supporters and developers. The names on the list are in random order every time you find a new theater.
Applies to The Conjurer mod on CurseForge

---
Surrounding Indicators Orange Display Name
All supporters will have an orange name displayed on the indicators for everyone to see. Developers and contributors have a magenta name as well. A simple aesthetic to thank you all for supporting.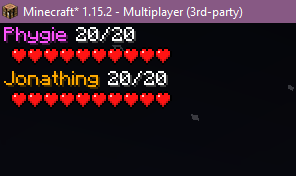 Applies to Surrounding Indicators mod on CurseForge
---
Your Head On Our Website
These awesome people will show up on the front page of our website and here as well!
Applies to the Modding Legacy Website!
---
Upcoming Blue Skies Supporter Pets
This is currently in development! ⭐
There will be supporter perks in the mod that will give you cosmetic pets that follow you around! The image below is a sneak peak of the UI and of what this currently look like.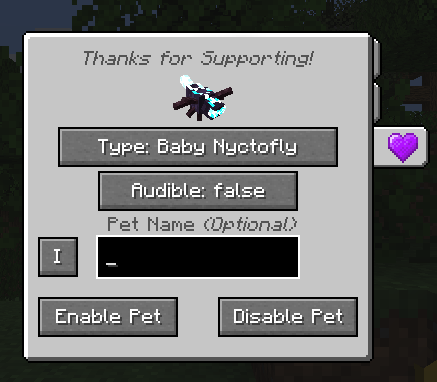 … And More!
We are continuing to develop more and more to reward our supporters. If you're a supporter and have ideas for supporter rewards, we'll be hapy to hear what you think in our supporter-exclusive channel on our Discord server!
---
Support Us
All this sounds good? If you like what we do, please consider supporting us for as little as $1 a month.
By supporting Modding Legacy, all supporters will receive benefits for helping us out! We will continue to keep adding more perks for supporters as we grow and this list will be updated with time.
We have our Patron's names included in a list that we can dynamically update included in all of our mods pull from to reward them for supporting.
If you are a supporter, please send us your Minecraft username so that we can include you in the list.

Frequently Asked Questions
---
Q: What do you use the money for?
A: Right now, we use the funds and then the rest out of our pocket to pay for our Dedicated Server. Patreon is helping us pay off the server. Every dollar counts! Our Dedicated Server hosts the following:
---