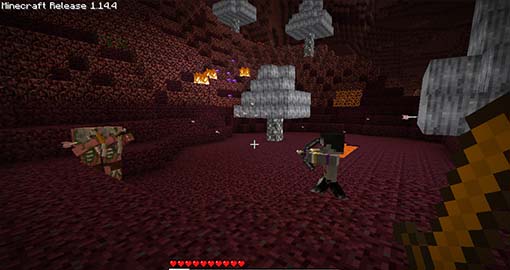 Loading...
---
Authors
---
Loading...
---
Loading...
---
Official Downloads
---
Tags
Adventure
Combat
Exploration
Lightweight
---
This modpack will give you a nostalgic experience along classic mods that have been ported to 1.14.4 for the nostalgic experience! For the best experience, keep smooth lighting on minimal or OFF and use the Beta+ world generator

Mod List for 1.14.4
---
Classic Main Menu
In-Game

The Overworld
Explore the overworld with beta minecraft textures and sounds, along with trees generating around from the Premium Wood mod!

The Nether
The nether with more life from Nethercraft

The Skylands
Added from the Rediscoverd mod, venture through the skylands, fight giants, find villages and trade with pigman and discover the lost features of Minecraft.
Features
The entire feature list is on the Beta Days CurseForge page.
Old Hud

Disabled 1.9+ Combat System